Saturday, October 30, 2004

so here i am rotting at home!!

no more school for me!!!! how?? i know for a fact that my mom wont let me go out when i want to.. not like my other friends... i know she means well..but it is the HOLIES!! hope she lets me go out for once?!!

knew i wont have anything to do at home so i bought a nail flier on my way home... have been filing my nails ever since..now my nails are all smooth and shiny! hahahh i know its kinda boring but hey i aint have things to do around here...well..except for the cleaning, clearing of all the books on the table and folding of the clothes...hehehe...lets not go there lah...

school is over and i am going to miss my friends for some time.. are we really goin to sentosa again?? i really want to go and this time i want to go and swim!!!!ahaahahahah!!!!

my mom is choo stubborn..she is so sick and she still wants to go to work!!! crazy rite!!! haiz....

well...mom saes we might be going to geylang this year to buy divali baju...she sae there got nice2 designs...go there see2 onli lah then will sure go little india!!!!!!


ok lah i will crap some other time lah when i actually have things to blog about!!!!

see ya!!!!

Chocoholic Babe signing off @ Saturday, October 30, 2004
Saturday, October 23, 2004

wad shall i type about!!??!

so i am rotting in both home and school..coz i am bored out of my life at home and i have nothing to do in school...

when i am at home i either use the com, watch tv, listen to da radio, read a book or sleep!! it can get quite boring u KNOW!! and in school i stay in class the whole day playing games or talking..no offence but playing monopoly for the whole of 4 hours or so can get quite dull...and my class is gettin smaller and smaller as the daes pass ..from 27 pupils only 10 turn up most of the time...

i am finally dancing for devali concert!! this hindi song lah..very nice!!! the steps are cool..all done by kristine! now i know that swati is actually a nice girl...haha!! yipeee!! i cancled the henna shit thingy and mr. mohan agreed !!! 1 less thing to do!!!!!

the guys dance is such a mess..some are like soo dead..some like robot..some cant even dance...onli 2 ppl in the group can dance!! pity them...

things that are going to happen...

1) lighting up of lamp by mr. ong
2) speech
3) girls dance
4) talk on how we celebrate devali differently by me and swati
5) boys dance
6) mr. mohan's talk on the origin of devali
7) finale....

the end

so i still have to prepare my script with swati on mondae!!!
we will be having practice from 10 to 6 pm crazy rite!!!! but nvm i like to dance....
have not dance to an indian song in a long time!! i cant wait!!!!!!

p.s. hating somme people rite now..not going to let them spoil my mood and my holies..so i am not going to speak or mix with them for the time being!!!

se ya *muackzz*

Chocoholic Babe signing off @ Saturday, October 23, 2004
Wednesday, October 20, 2004

ok i had nothing to do..so ya.. i have posted some pictures for my onam festival for u to see..


as u can see my mom being the wonderful mom that she is made all this fab dishes to fill our tummy!!
so being the greedy pig (ahahahh) my brother is stuffs his whole hand into his mouth while he was eating..he is going to lock his jaw again one dae..then he will cry..

Hey he can become the mext JAWS!!!



GROSS!

I rest my case on my bro being greedy..will u just look at his banana leave!! it is so empty!!!
haiz...sad case lah ... cannot be helped

Chocoholic Babe signing off @ Wednesday, October 20, 2004


ok lah... this has nothing to do with onam...( i know that and u know that)..
but isn't it just the cutest bun u have ever seen??!! ( say yes!! say yes!!)
inside was filled with u guessed it..CHOCOLATE!! u guys are clever!!
well i only got one of the ear which was just plain bread...



cutie

but it does look kinda freaky if u look at it closely... looks like it has wrinkles....
whakakaakak!!

Chocoholic Babe signing off @ Wednesday, October 20, 2004


this is me lookin retarded with my hair all over da place!!! OMG!!!
looking undohish..whahahahah.......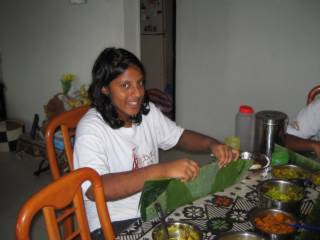 the food however was super yummylicious!!! *drools*
my mom cooked up so much food that i was super bloated!!!
but it was dame good i tell ya!!!!

Chocoholic Babe signing off @ Wednesday, October 20, 2004


here is another on of my pics on onam...
a very cute lovely kolam made of flower..unfortunately done by my sicko bro...(soo sad)
i need credit too u know..i sprinkled wqater over it to make it look pleasent..(thank u thank u)



flower kolam!!

ok so thats the end for now......

Chocoholic Babe signing off @ Wednesday, October 20, 2004
Friday, October 15, 2004

WOOHOO!!WOOHOO!! ITS UR BIRTHDAY!! ITS UR BIRTHDAY!! ok excuse me for crazyness!! just imagine..no more books..no more nagging teachers..no more studying..no more homework..well at least for now..but hey!! i am still happy!!!

here i am enjoying my holies..but my poor poor sis and bro have to study for their exams..hahaha how sad.. hey dun hate me..

watching singapore idols now..how can leandra be in the bottom two along side with jerry..note that they have not announce who is going out..
wait they are going to tell it now......
WOOHOO JERRY-CONSTIPATED FACE IS FINALLY OUT!!! TOO HAPPY!!!FINALLY SINGAPORE IS NOT DEAF ANIMORE!!!!!!!!
EVERYONE IN MY HOUSE WAS LIKE LAUGHING AT HIM..AND WAD IS UP WITH THE BLOODY RETARDED SMILE!!! OMG PLEASE SHUT HIM UP!! MY EARS ARE BLEEDING!!!!! THANK GOD MY EARS WONT BE RUINED AGAIN IN THE NEXT ROUND!!

HAHAHA!! ok lah enough singapore idol for one day...

now i still have to learn how to do henna designs for deepavali concert..i want to dance!!haha it has been a long long time since i have danced to an indian song..from p6 til now!! haha miss my indian dance days!!

soo sad the rangoli (colourful designs drawn on the floor with colourful powder) competition has been cancled!! nvm!!

my group has been wanting to take pics tgt again... they were thinking of going to orchard on monday but not confirm..hmm..i want to try ice skating too...that time when we went to JE to study we oso went up to the ice ring to see them ice skating..looks very fun i really want to try!!!!

hmm may be next time..

k i want to go surf the net

miss me!! c ya!!

Chocoholic Babe signing off @ Friday, October 15, 2004
Thursday, October 14, 2004

havent been bloggin for a long time.. having the freakin flu attack again..it just wont leave me!! AA..AA..ACHOO!! here i go again!!! Dammit..this time its really horrible...haiz..

just now when i was doing my F&N paper..after every sentence i sneezed..i think eileen was abit irritated!! hahah sorry ya.. haiz but the test was quite easy though even if i did not have enough time to finish it..haiz wasted!! my paper ended at 9.05..i know super early right!!hahah the other paper like POA and D&T ended at 9 20 and 9 40 like that.. art even worst 10 20 then end!!we waited for joy and val to finish their art paper coz we were going to have a talk to our group on what has happened to all of us..as u may know my group became into two groups coz of some reasons..

AA..AA..AA..AACHOOO!!

so we went to the concourse to talk about our problems wif each other.. all of them say i was too serious..am i?? if my sis reads this she will sure laugh..well thats wad they think i will try to not be too serious next time..whahaha...

actuall i was suppose to go study with fifi, ida and rinah now but i am too sick to go out todae lah..sorry lah understand abit lah..

AA..AA..AACHOO!!!

well tomolo is the last dae of my exams which will be chem and CME!! hahah!! choo happi!!!!

joy said that she wanted all of us to go to her house to watch movie after that..do u think my mom will allow me?? i hope so.. *cross fingers and looks pitiful*

k lah i want to go rest and then go study

AA..AA..CHOOOO!!!!

c ya!!!



Chocoholic Babe signing off @ Thursday, October 14, 2004
Tuesday, October 05, 2004

listening to : the way you move by outkast...oooOOohhh

october can u pass by faster??? i want november to come a.s.a.p!! many reasons y..
1) deepavali is on the ??of november!!
2) my birthday..*hint hint*
3) hari raya..can go galan galan wit my girls!!woohoo and get dosh..!!hahahaah coz i am soo out of it..
4) holies!!! can have fun!!
5) SC camp at sentosa!!! woohoo!!!!!!!

oooOOOoo i juz love the deepavali week!! the atmosphere in my house is soo nice during that week!! a mix of tension, excitment, chaos and laughter!! with my aunty cleaning the whole house..my dad doing the fixing up of *rosak* things that he has put off til that week..my mom me and my sis baking the cookies..well last time juz help here and there..but now with my cookin skills gooten from F&N i can also bake cookies!! my bro sneeking into the kitchen to smack some pineapple jam ,meant for the pineapple tart, into his mouth!!! well i can sae its going to be great...

and all the shopping we get to do for both clothes and food...the last minutes food stuff and shoes!! and not forgetting the wonderful henna!!

the dae before deepavali where the whole family wiil stay up as late as they can tahan to put up the lights, fix the dinning table lights ,clean the prayers room, do a final mop of the floor, cut up the ingredients need to cook all the delicious dish made by my mom, applying henna while watching all the deepavali movies and finally baking the tiring steam cake that will always taste delicious whenever my mom bakes it!!!yum!!!!!

i juz cant wait...i was juz talikng bout all this during free period in school!! it gave my a tingling feeling juz thinking bout it!!!

my mom juz makes the best dishes for deepavali esp the *drumrolls please* SAMBAL PRAWN!! which i can never taste coz i cant eat seafood..dammit!! her nasi briyani!! mutton curry!! chicken sambal!! salad!! the famous pineapple tart!! peanut biscuit!! arrr....*DROOLS...*

emmmemmmm juz cant wait the get over the bloody EOY!!!!!! wish me luck!!!!!!!!!!!!!!

Chocoholic Babe signing off @ Tuesday, October 05, 2004
Sunday, October 03, 2004



my buds!
Chocoholic Babe signing off @ Sunday, October 03, 2004

me again to one of my auntys sis wedding
the groom was very freaky!!! had hair in his ears!! i mean GROSS!!!!!
i look retarded in the pic yar??!!?

Chocoholic Babe signing off @ Sunday, October 03, 2004

me going to some chinese dinner
Chocoholic Babe signing off @ Sunday, October 03, 2004


this was the pic we took a long time ago at far east...
dun we look good!! ahahh guess not...whahahah!!!
i am in a crazy mood right now so dont u mind!!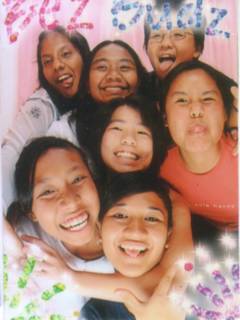 my buddies!!

OMG!! i am having a bloody flu...and its terrible!! its always like that whenever it near the exam period, i get sick... what the hell!!!!!
haiz...

k lah see ya dun wanna be ya!!!
more later...

Chocoholic Babe signing off @ Sunday, October 03, 2004
My Profile
Name: sujtha, Suji, nair or kak su to fifi's lil sis! LOL
School: Secondary school student no more baby!
Age: 18 (26-11-89)*hint hint*
Horoscope: Sagi
Likes
Chocolate
Blueberry Cheesecake from coffeebean..can you say oolala..
Pooh
Soft toys
Hot pink
eyeliner
Green!
Nail art
Chunky chains and earrings
Into drum and guiter but dunnoe how to play it myself
R&B
Caps
Reading books
Singing
Dancing! N5!
Theater
Small kids are oh-so-cute!
English
Hates
Techno music!! Yucks.. no offence..
Smokers or the smell of smoke
PeoPLe WhO ALwaYZ tYPe LiKE tHIs
Posers
Anykind of bugs, flies or insects
Those who dont have the guts to face me, thus, talking behind my back
people who try to copy my way of speaking or dressing.. i am watching YOU!
Not fond of cats and dogs.. (long story)
[pet lovers: don't hate me..]
Wishlist
New handphone
The nail art set in IMM
Adidas jacket
Puma bag
More jeans and tops
To get the shades and pumps i want!! LOL!!

Create your own Friend Test here
Past
May 2004
June 2004
August 2004
September 2004
October 2004
November 2004
December 2004
January 2005
February 2005
April 2005
May 2005
June 2005
July 2005
August 2005
September 2005
October 2005
November 2005
December 2005
January 2006
February 2006
March 2006
April 2006
May 2006
June 2006
July 2006
August 2006
September 2006
October 2006
November 2006
December 2006
January 2007
February 2007
March 2007
April 2007
May 2007
June 2007
Credits
Priscilla
Blogger
Photobucket